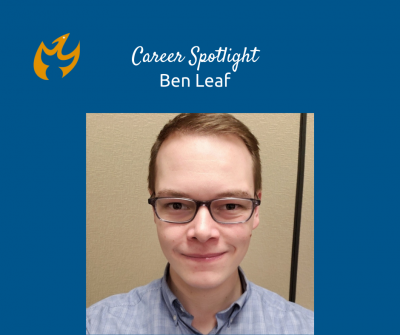 Tell us about your career.
I'm a Supplier Quality Engineer with Medtronic in the Neuromodulation Division.
My team supports the manufacturing of medical devices from the start as a bunch of materials and parts, to the finished device that is sent to a hospital for use in medical procedures. Most of my day-to-day work is to support improvement projects to make our processes simpler or more cost effective. I also support corrective action projects should an issue with a device be found, as well as projects to work on prevention of problems should we identify a potential issue with a process or a device.
My role helps ensure the company can supply the highest quality devices to our doctors and patients. A person receiving an implantable stimulator or pump should be able to trust their life to the device. Identifying manufacturing issues quickly and performing improvement actions helps us maintain that trust by continuing to make dependable devices. Our company has patients all around the world, meaning my work has a global impact on the lives of people who need the therapies we provide.
What is your educational background?
I have a bachelor's degree in Mechanical Engineering.
What do you need to enter and/or be successful this kind of career?
To become an engineer, you will need to attend college.While there are generally no special qualifications for an engineering job (especially for entry level) it is very helpful to pursue extra learning and experience in the form of internships or university research.
While in college I worked three different summer internships. I interned as a manufacturing engineer, a product development engineer, and lastly in quality engineering. The quality internship directly led to being hired for my current role.
Additionally, I participated in research at college with the biology department to spin artificial spider silk. The problem they faced was that they had to create the silk by hand with a very sensitive process that was easy to get wrong and led to a lot of wasted material. I collaborated with an electrical engineering student to create a pump system run by a computer to precisely dispense the silk and allowed different elements to be infused in the silk drawn from the device. Through this project I learned to be open to possibilities I normally wouldn't consider. It is surprising where you can make an impact.
What do you think youth should do to prepare for a career like this?
I would recommend anyone who is interested in engineering take as many opportunities as you can to get involved in STEM classes or activities at school or through other youth programs.
In high school, I discovered my passion for technology by being a teacher's assistant for my favorite tech ed teacher. He gave me a lot of responsibility in the class including helping to prepare different projects for the students and challenged me by having me think through problems rather than tell me exactly what to do. I think I learned more than the actual students in the class that term!
Even more impactful was my participation in an organization called the Civil Air Patrol or CAP. Their cadet program is a youth program with some similarities to the boy scouts, but with more focus on leadership development and STEM education with an aviation focus. CAP gave me opportunities to learn about myself and the world that I would not have found anywhere else and sparked my passion for technology.
There are a whole lot of simpler things you can do to prepare as well. Learning to manage your time correctly is a simple thing you can focus on a little every day, and it will pay off big time when managing college work or projects in your career afterward. Look for opportunities to hone your critical thinking skills. Approaching problems logically and methodically is key and can be applied almost anywhere. Lastly, I recommend anyone take college classes in high school to get a head start on your schooling. It will allow you more time to focus on what's important in college and maybe even help you graduate faster.
Do you have any other personal reflections on your career?
As an engineer, medical devices is just one of a whole host of fields you can pursue. Anything in this world that is manufactured has been directly or indirectly influenced by an engineer at some point. Whether it be research, design, or production. An engineer can support virtually any industry from automobiles and airplanes, to civil projects like bridges and dams, computers and phones, renewable energy, or things you might consider simple like paper or recycled goods. Engineers have a global impact in the public and private sector – there is no shortage of what you can do!